Our new third lake is now fully open for fishing. It was officially opened and named Stag Lake by Mrs. Mary Carden, Secretary of the Eastbourne & District Fly Fishing Club (EDFFC).
Nestling comfortably in between Well Lake at the top of the fishery and Brick Lake at the bottom, newly born Stag Lake sits naturally on the site of an old hay meadow, surrounded by open pasture and mature woodland in this wonderful valley in the High Weald AONB in sunny Sussex.
Gallery of pictures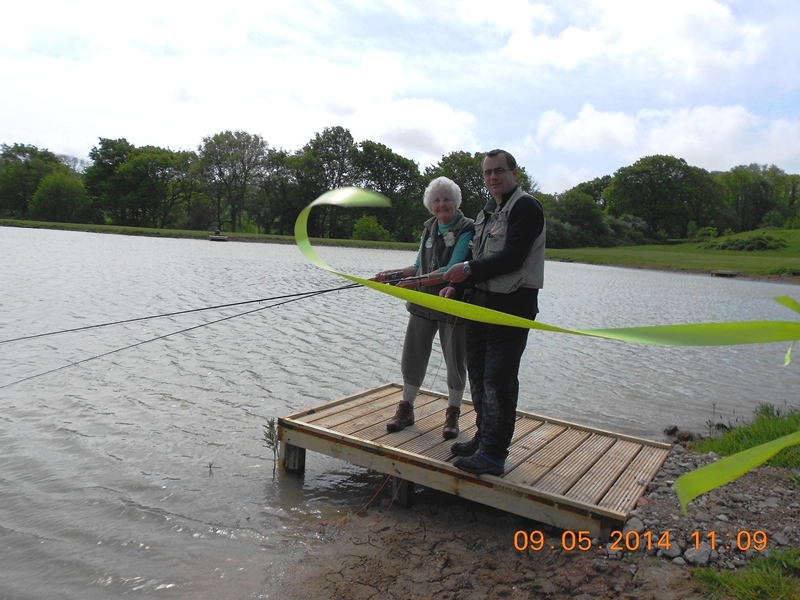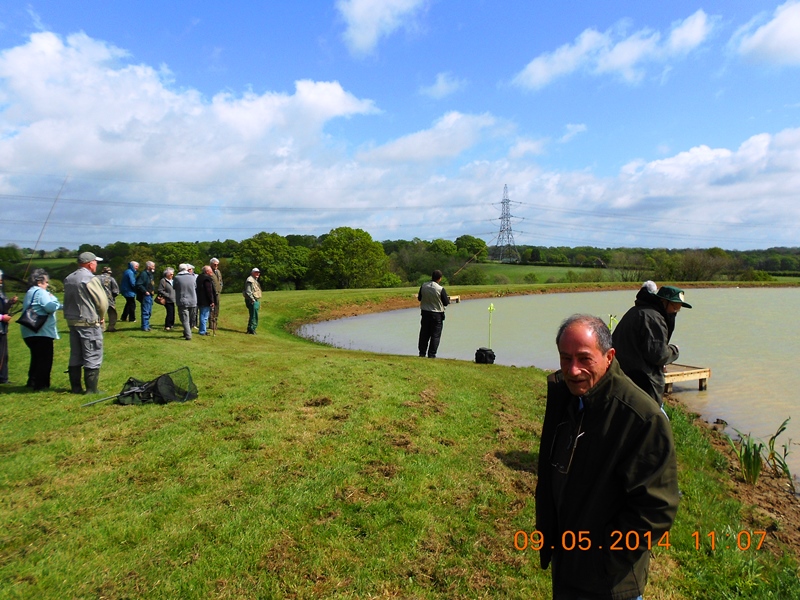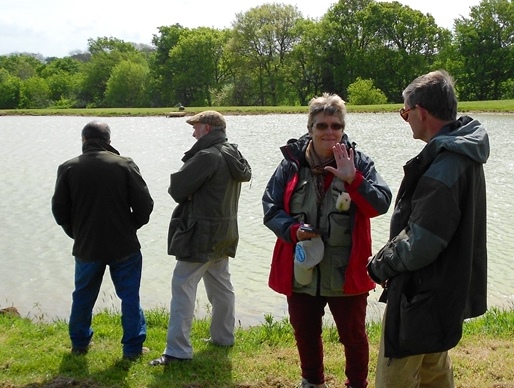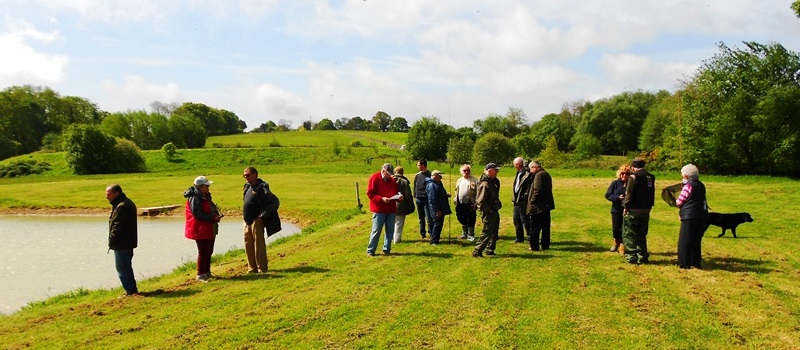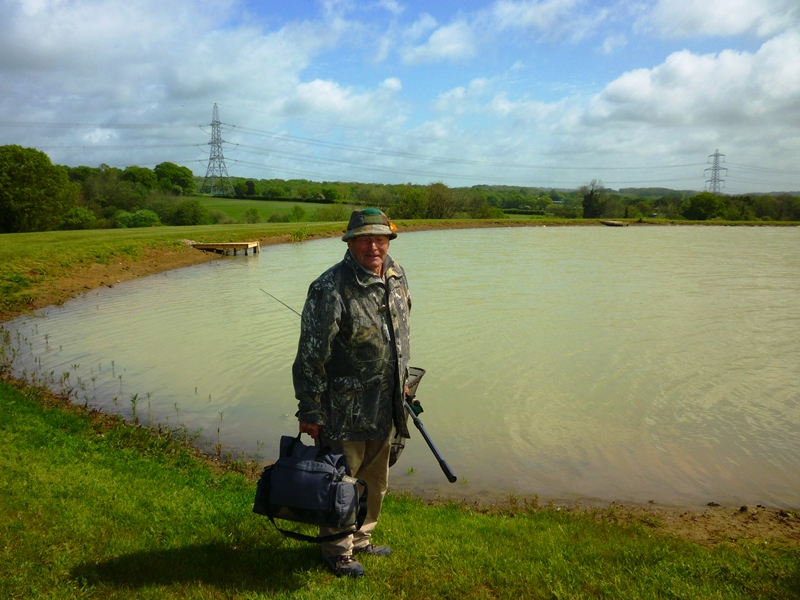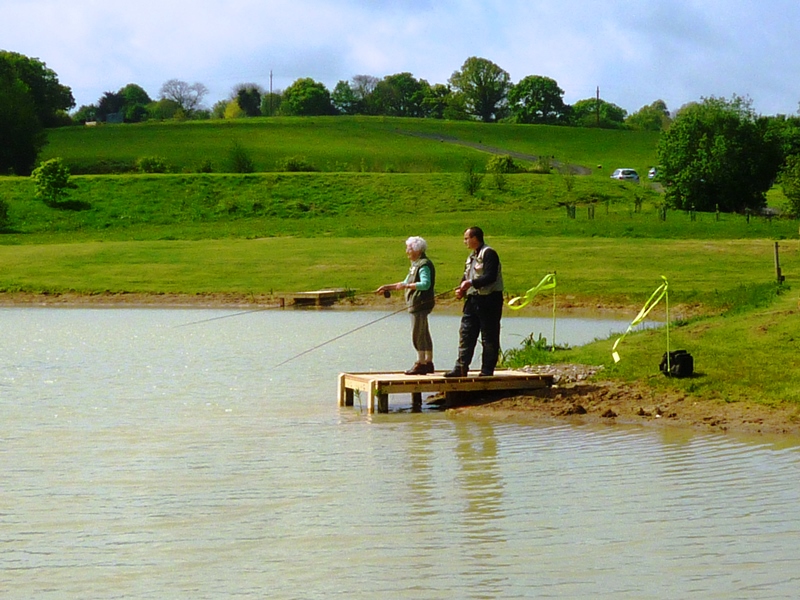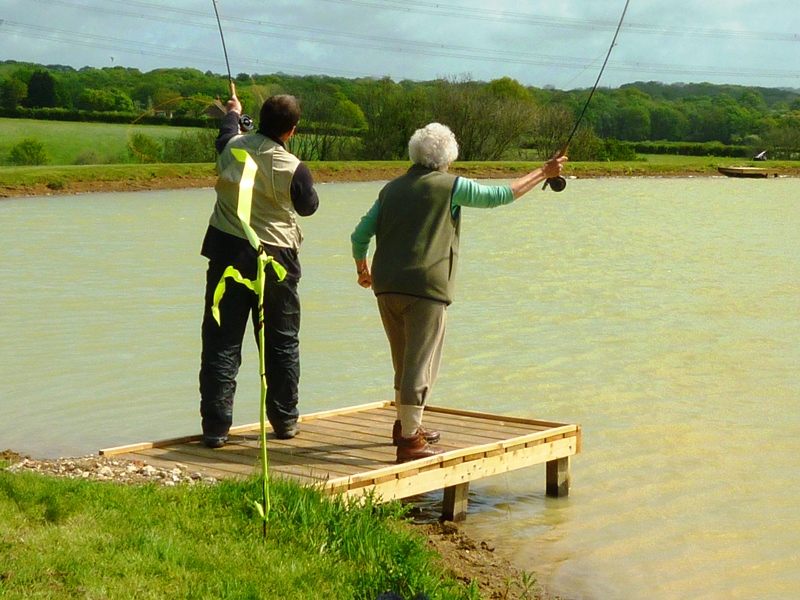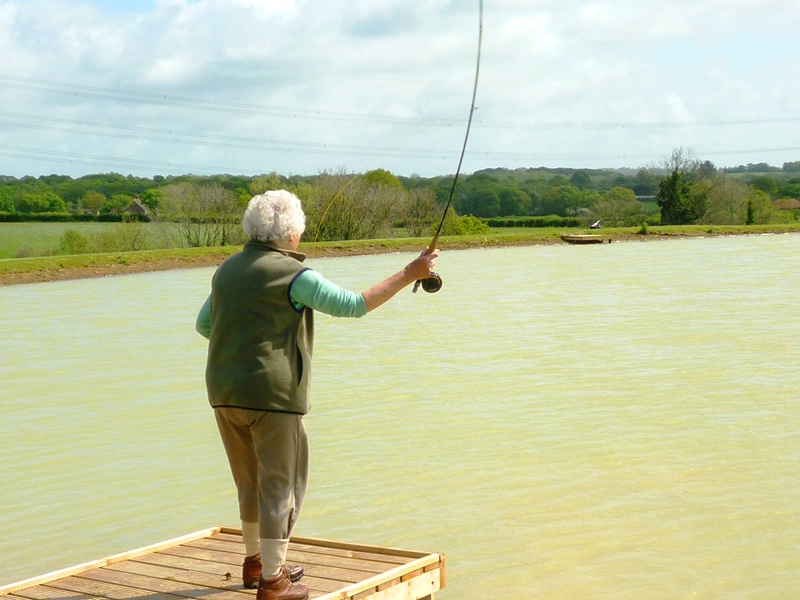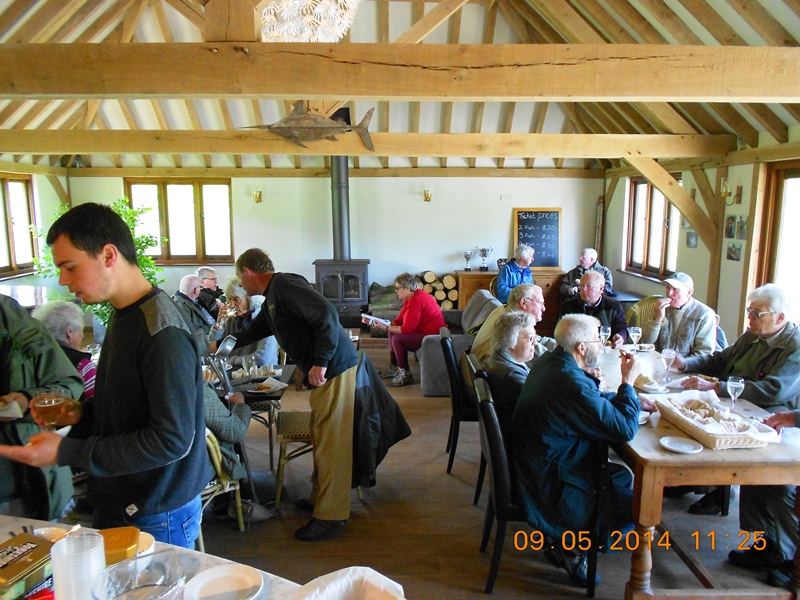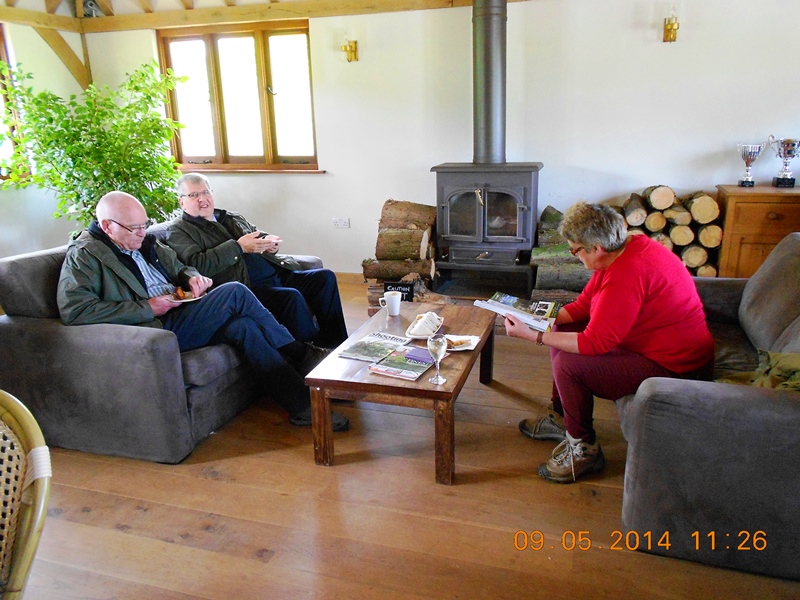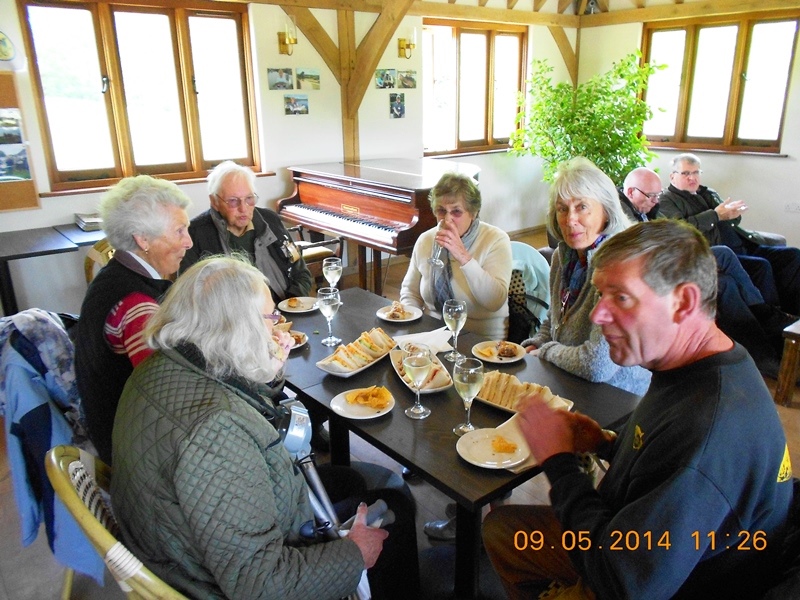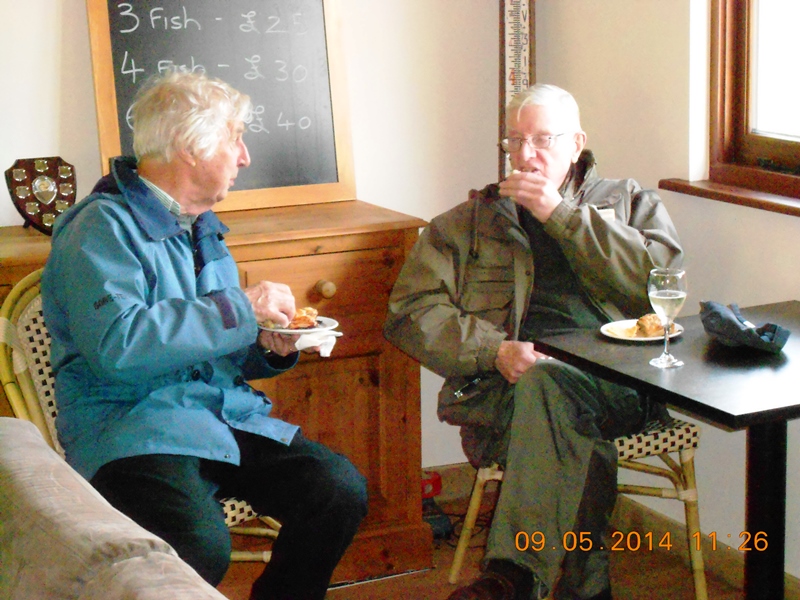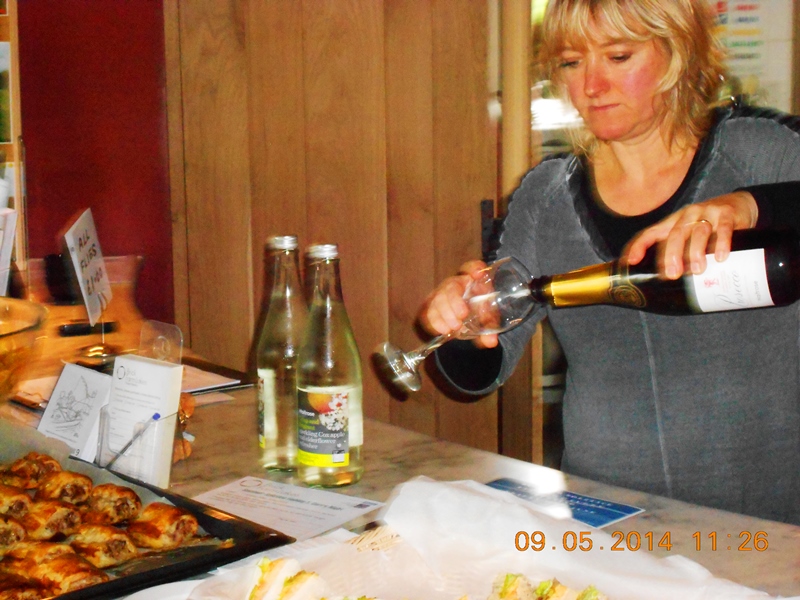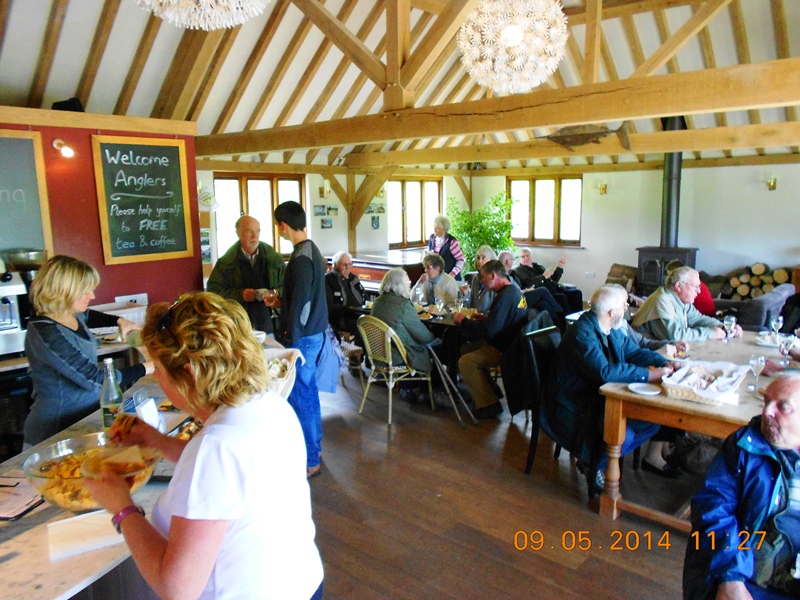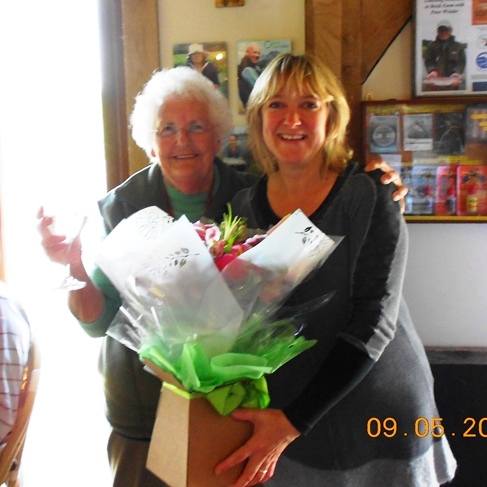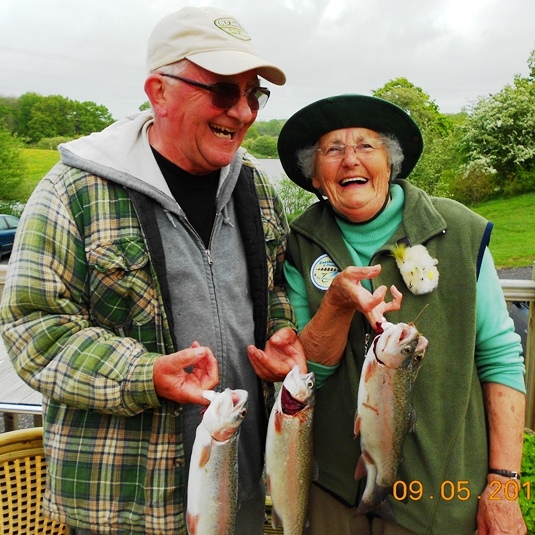 Why Stag Lake?...
One day last year while the lake was still being dug two beautiful stags arrived. They spent the afternoon here walking round the fields, strolling across the car park by the lodge and swimming the length of Brick Lake. They stood on the bare banks of the new lake at sunset and had their pictures taken very obligingly before disappearing into the wood.
After running a "Name the Lake" competition last year we chose this name from a long list of very worthy entries. Congratulations to the winner Mr.Lea Rottner from Brighton.
The honour of opening Stag Lake was happily awarded to Mrs. Mary Carden of the Eastbourne and District Fly Fishers Club. She represented this fine body of anglers who have supported the activities and fishing here at Brick Farm for a number of years and without whose help and advice things would not have been the same! Following an introduction from Keith, Mary said a few words of congratulations before cutting the ribbon and then had the experience to have the joint first cast along with the "Name the Lake" winner Mr. Lea Rottner. Luckily, as they stood shoulder to shoulder they were a perfect match, one was right and one left handed, a good job too as it would have been impossible otherwise! We all rushed back to the comfort of the lodge for a toast of champagne and a something to eat and missed them both catching the first trout to be caught from the lake! Oops!

The recent planting including Iris' and Yellow Flags are beginning to establish themselves around the banks and the water is clearing well. There are already huge clouds of tadpoles in the water and it is now attracting insect life to make for some exciting dry fly fishing this summer. The fishing platforms have been built and the water is now of the quality needed to hold a large stock of excellent quality trout and the fishing, as you have heard, can now begin!

The added bank space this extra lake will now provide for our anglers is brilliant! They can spread out and move around as much as they like and Stag Lake will be a perfect lake for novices to practise their casting or take a lesson with one of our qualified coaches. With no fly restrictions here there really is every opportunity to catch a full bag, although as with fishing anywhere nothing is guaranteed!
We have recently stocked some beautiful Blue Trout for the first time and also added a couple of Golden trout for fun! Our prices remain unchanged this year at a very competitive rate and our track down from the main road to the lodge and the parking areas has recently been completely resurfaced. We have clean toilet facilities and complimentary coffee and tea in the lodge which is always accessible during opening hours. Card payment facilities, cold drinks and the bar are available when the lodge is manned.
Keith Curtis welcomed everyone with a few words:
"Ladies and Gentlemen, Sophie and I thank you for joining us today at the end of a ten year journey to open a new third lake here at brick Farm Lakes.
First envisaged by our predecessor Mr Gary Martin in 2002 we are very lucky to be the ones to organise its construction and be here today to open it.
Although Sophie and I are ending our tenure here soon and passing on the fishery batton to a new owner we all like to feel we have left our mark and leave things better than we found them. We hope you agree we have achieved this in particular with the opening of the fishing lodge and now with the new lake – a feature so large and permanent it is already clearly seen on Google maps, probably visible from outer space and should endure maybe for millennia.
We would like to take this opportunity to make a few thank you's.
First the Environment Agency, today represented by Mr Brian Smart. They have been ceaselessly supportive of everything we do here and certainly without their help this lake would not be here today.
Local contractor Mark Woollard who has made such an excellent job constructing this new lake, and we must add re-surfacing the track.
We thank all anglers who fish at Brick Farm Lakes. Without your support there would be no fishery.
Finally we must thank the Eastbourne and District Fly Fishing Club for their belief in us and specifically Mary and John Carden who have helped us and guided us as novice fishery owners.
It just leaves me to ask Mary to open the new lake. Thank you."
Thank you to all the following who submitted a suggestion for the new lake name:
Michael & Mavis Sellings, Will Kaplaahh Hargreaves, Jim Vaughan, Peter Winder, Neil Nice, Harry Atkins, Mick Duncan, Aaron Ramsey, Tom Jarvis, Malcolm Watson, Ed Davidson, Walter Waller, William McCarroll, Dave Tuting, Dave Tuting, Denys Rickett, Andrew Mack, James Curtis, Tony Woolnough, Mike Parris, Brian Leek, Mick Pass, Roger Clark, Mesit Ozil, Cliff Jenner, Tony Gilbert, Rodney Fox, Caroline Cutmore, Brian Funnell, Buster Jenner, Ian Workman, Peter Clare, Dave Wilde, Tia Curtis, John Holman, Mike Evans, Theo Walcott, Eddie Clark, Lea Rottner, Per Mertesacker, Arthur Percival, Steve Mewett, Mark Collins, Alan McLean, Bob Lowry, Nick Curtis.